BMW Books & Manuals
66-76 BMW 1600-2002 Restoration guide by M. MaCartney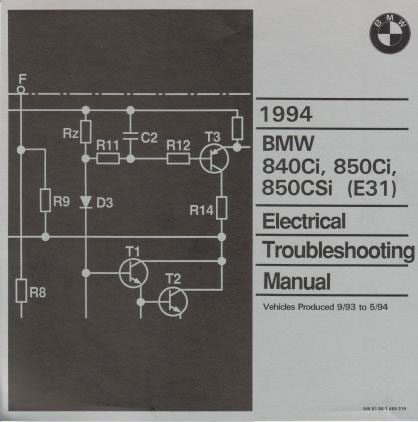 94-95 8-Series Electrical Troubleshooting Manual by BMW
91-99 3-Series BMW History by
G. Robson
Find a list of BMW manuals and books for sale
.
We have all the BMW Books for all your Cars, Motorcyc and SUV's. We have BMW Factory Shop Manuals, Service Manuals, Repair Manuals, History Books, Owners Manuals, Maintenance Manuals, Parts Manuals, Repair Books, Parts Catalogs, Restoration Manuals, Historical Books, Overhaul Manuals, Restoration Guides, Sales brochures, and any other type of automotive related book or manual you could think of for your car or truck.
We have BMW literature covering every model of BMW including: 316 316i 318 318i 320 320i 323 323i 323iX 325 325i 325iS 325iX 325e 325eS 330 330i 330iX 516 518 520 520i 525 525i 528e 530 530i M535 535 533 533i 535i 540 540i M5 M3 628 630 630i 633 633i 635CSi M635 M6 L6 728 728i 745 745i 730 730i 733 733i 735 735i 735iL 740 740i 740iL 750 750i 750iL 760 760iL 840 840i 850 850i 850CSi 3.0 3.0i 3.0CS 3.0CSL 3.0CSi 501 502 503 507 Baroque Angel Isetta 700 Mini Glas 1600GT 2800CS 2000CS 3200CS E6 E10 E20 1600 1800 2000 1602 1802 2002 Turbo E3 2500 2800 Bavaria E9 3.0CS 3.0CSi E12 E21 3 series E23 7 series E24 6 series E26 M1 E28 5 Series E30 E31 8 series E32 E34 E36 Z1 Z3 Z8 E38 E39 E46 E63 E65 X3 X5 Sedan Saloon Coupe Roadster Convertible Station Wagon & SUV and more...
Click here to select your model
In addition to BMW manuals, we have manuals and books for all cars for all years. Whether you need a 1925 owners manual or a 2005 service manual we have what you need. We are located in Seattle, WA. USA. where we have been supplying Automotive Books & Manuals to satisfied customers around the world for 10 years. Our website search found on the left side of this page will help you find the items you are looking for. We specialize in unusual Manuals for all cars, even the rarest cars. American cars, European cars, Asian cars, and any other cars. We also have manuals for Motorcycles including Owners Manuals, Shop Manuals, Service Manuals, Maintenance Manuals, Parts Manual, Restoration Guides, History Books, and more. Not only do we carry manuals for cars, trucks, suv's and motorcycles, but we also have many manuals for boats and other marine watercraft. We are very proud of our extensive collection of automotive manuals and books from around the world. We are glad you have found us and hope we can satisfy your need for automotive books and manuals. We ship all over the world every day. If you do not find what you are looking for on our searchable website on the left, please feel free to call us at USA-206-721-3077 or e-mail us at books@books4cars.com You may also visit our walk in Automotive bookstore at 4850 37th Ave. So. Seattle Washington 98118 USA.
Find and buy the BMW book or manual that you need.